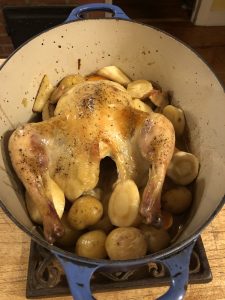 We have been raising chickens on our farm for over ten years.  These chickens are a French breed that are raised to French standards that are referred to as Label Rouge.  Their flavor comes from the time they spend enjoying the fresh air and sunshine outside in the open acres of land that they roam free on.  I have always roasted them in my kitchen in such a way to bring out their already wonderful flavor, not to cover it up.  I hope you enjoy my chicken as much as I have over the years of producing and cooking these….from my farm to your kitchen, please enjoy.
Ingredients
1 whole Podere di Melo chicken
A few pinches of salt & pepper
1 whole lemon
3 handfuls of baby carrots
3 handfuls of fingerling potatoes
3 parsnips, peeled
Fresh butter
Fresh tarragon
White wine of your choice
Directions
Rub the inside of the chicken with a small amount
of salt.
Cut the lemon in half and place both halves inside
the cavity of the chicken with the tarragon.
Rub the outside of the chicken lightly with fresh
butter and place into a Dutch oven.
Place the carrots, potatoes, parsnips around the
chicken.
Gently pour the white wine over the chicken and
salt and pepper the outside of the chicken, placing
a few more sprigs of tarragon on top of the chicken
Cover the chicken and cook at 350 degrees for
about hours until it reaches inside temp of 165
degrees.
Once the chicken is done, take it out let it sit for 10
minutes. Poor yourself a nice glass of wine and enjoy