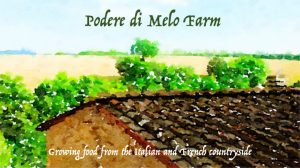 Fresh Sheet
Week of _____________
** Indicates limited supply
Greens:
Roots:
Microgreens:
Summer Crops:
Herbs:
---
Order Cutoff Time
Thursday 9 a.m.
for Friday afternoon delivery
Minimum for Delivery: $75 (within 20 miles), $100 for Philadelphia
Smaller orders can be picked up.
Thank you for supporting Local Farmers!
Call or Text: 609-937-0595
Email: order@poderedimelo.com
All products are available on a first-come, first-served basis. Crops may be subject to shortages due to high demand or seasonal variations
Ordering for Your Restaurant
Providing fresh, seasonal produce to our chef's in this regional area is a big part of our mission at Podere di Melo Farm, so we want to make it as easy as possible.
How to Order
Chefs are invited to order products either of two ways:
1. Farm Visit
We encourage chefs to visit the farm during the week to examine and, yes, to taste the crops in order to assess quality and flavor.  Typically, chefs arrange to come in the morning one day a week.  Before you leave, we will ensure we have your order correct and a confirmed delivery date.  Alternatively, you can take the products with you if you so desire.  We ask that you call us before coming to the farm so that we can make sure someone will be there to assist you.
2. Weekly Fresh Sheets
We issue weekly "Fresh Sheets" that will list the products available each week inclusive of the price/unit. Fresh Sheets can be sent by email directly to you and are also available on this page of the website.
Ordering is as simple as texting us or giving us a call by Thursday at 9am for Friday delivery. Our Fresh Sheets are optimized for cell phones, so ordering from your phone/iPad/or computer is easy as well.
Please note: We deliver within an estimated 60 mile radius of the farm (Phila & New York).
Payment Terms
Unless otherwise agreed to, payment is due upon delivery.
We will begin sending out Fresh Sheets in the spring of 2020.  If you are interested in receiving Fresh Sheets, please provide us with your contact information below.